How to Use this Exhibitor Kit
Welcome to your Exhibitor Kit! Please use the following links to learn more about what you need to do to prepare for the show. Wondering where to start? New and returning exhibitors should all follow these critical steps for success:

1. Review the Downtown Raleigh Exhibitor Manual with your show staff. Everything you need to know about move-in, move-out, booth regulations, and more!

2. Go over the Must-Do Checklist to ensure your booth and staff are show ready. After you review the Exhibitor Manual in full, this quick reference highlights all of the "must do" items in a checklist!
3. Review the Move In and Drive-On Schedule move-in and out information( especially if you need to drive in to the convention center). All exhibitors, new and returning, should review this carefully!
4. Place order for show decorator services for items such as, carpet, tables, or chairs. Hale - Exhibitor Services Pre-Order by Sept. 20th for substantial discounts!
5. Place order through the Raleigh Convention Center for Utilities prior to the show. UPDATE ORDER FORM
6. Contact us with questions; we're here to help you have a great show!
Looking to hire? Post your job listing on our website for increased exposure!
Click here to be redirected to the job posting form.
HAVE YOU SET UP YOUR EXHIBITOR LISTING?
Your listing on our website is critical to helping customers connect with you before, during, and after the show! Don't miss out on valuable leads-- set yours up by August 23rd!
CLICK HERE for instructions.
Move-In:
If you need to drive into the convention center in order to move into your booth, you must check the Drive-On Schedule for your assigned window. If you do not need to drive into the convention center and hand carry or cart your items in, you may enter the building between 8:00am and 7:00pm on Wednesday and Thursday. At 7:00pm, the convention center doors will be locked and once you leave the building, you will not be able to get back in. If you're in the building by 7:00pm, you may stay to work until 9:00pm. If you need to be in the building past 9:00pm, you must check in with the Show Office in room 206 (or call/text Erin Calabritto at 386-334-1713) for permission-- otherwise security will ask you to exit the building.
New! No pedestrian is permitted to walk the ramp to/from the street to the loading dock. You may load/unload then exit to park. You may re-enter the Raleigh Convention Center via the front entries.
FLOOR PLAN & DRIVE ON SCHEDULE

Tuesday, October 1, 2019 | 2:00pm-5:00pm Move-in for show staff, decorator, and large exhibits ONLY; no exhibitors will be permitted to enter the building if you have not been scheduled for Tuesday afternoon move-in.
Wednesday, October 2, 2019 | 8:00am-7:00pm General Move-In (drive-on access ends at 5:00pm sharp, refer to move-in schedule for your scheduled time)

Thursday, October 3, 2019 | 8:00am-7:00pm General Move-In (drive-on access ends at 5:00pm sharp, refer to move-in schedule for your scheduled time)

All exhibits must be show-ready on Thursday night. No move-in will be allowed on Friday morning. You may come in Friday morning TWO hours prior to show opening, and Saturday and Sunday ONE hour prior to show opening.
Show Dates & Hours:
Friday, October 4, 2019: 11:00am - 9:00pm
Saturday, October 5, 2019: 10:00am - 9:00pm
Sunday, October 6, 2019: 10:00am - 6:00pm

Move-Out:
For the safety and satisfaction of attendees who are still on the show floor, breaking down your booths prior to 6:00pm on Sunday is strictly prohibited. Please be courteous to the public (your customers), your fellow exhibitors, and show staff by cooperating with this policy-- communicating this to your staff on-site is very important.
Sunday, October 6, 2019: 6:01pm - 10:00pm
Monday, October 7, 2019: 8:00am - NOON
Hours subject to change.

Move-Out instructions can be found here. A copy will be dropped in each booth as a reminder on Saturday night.
EXHIBITOR WEB BUTTON
Advertise your participation on your website with these digital web buttons.
CLICK HERE for information about our NEW opportunity for you to advertise the shows and earn cash while doing it!
To get set up with your customize show promo code web button AND banner for you consumers, email your W-9 to Hannah Lewis HannahL@mpeshows.com
Website for W-9 https://www.irs.gov/pub/irs-pdf/fw9.pdf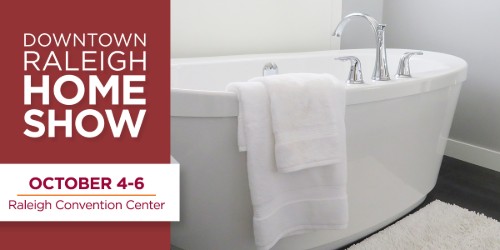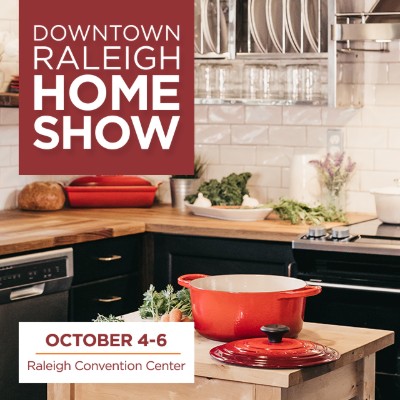 Below are the instructions for uploading the attached customized ticket button and banner.
Save a copy of the button and/or banner (right click & save the image to your computer)
Webpage: Have your developer upload the button or banner to your website
Once the photo is uploaded, have your web developer link the photo to appropriate blue link below.
Email: Insert the image as a PICTURE in the email or newsletter
Once the button is inserted, right click on the picture and select "Link"
Under the "address" field copy and paste the blue text below, then hit okay
Downtown Raleigh Home Show: https://raleighfallshow.com/
CONTACTING YOUR SHOW TEAM
If you are unable to find the information you need within this Exhibitor Kit, click here to contact a member of the show team to assist. We are here to help you have a great show-- thank you for exhibiting with us!

For assistance on show-site: Show management is located in the Show Office Room 206 on the mezzanine level. The Hale Service Desk (for help with carpet, freight, forklift, rentals, etc) and the Raleigh Convention Center Service Desk (for help with ordering power, water, or hardline internet) is located on the show floor along the front wall (the one with the escalators).